Our Marietta Electricians Are The Only Electrical Contractors You Need to Call

Marietta electricians at Perry Electrical Contractors are the best in East Cobb. But what makes Perry Electrical the best? Is it their dedication to customer satisfaction? Or their impeccable quality of work?
Well, it is that and more.
Marietta Electrician Near Me for Electrical Services and Electrical Repair
Perry Electrical Contractors is the only Marietta electrician you need for anything electrical. Here, we detail many of our available electrical services. Learn more about Marietta's electrical contractor with awesome reviews. And you will see why we are the only electrician you will ever need.
We are the best electrician near me, whether in Marietta, Dallas, Atlanta, Sandy Springs, or Roswell.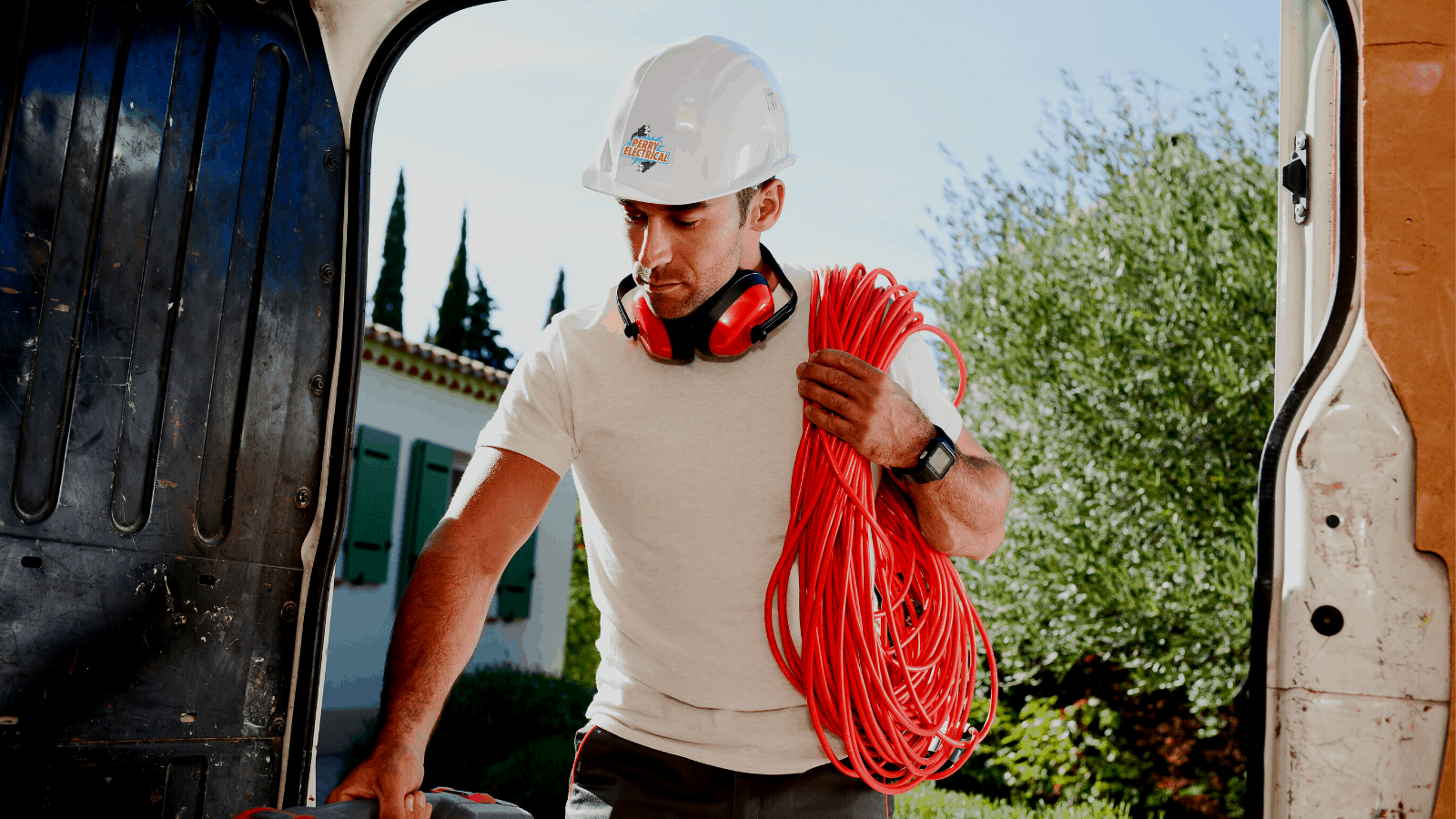 Electric Panels, Service Panels, Breaker Panels, And Circuit Breakers
Services include the replacement of outdated fuse boxes or old breaker panels with new circuit breaker panels. Also, service panel upgrades, breaker panel repair, and panel replacements are available—besides circuit breaker installations, electrical repair, and replacement. We also offer electrical panel and sub-panel installation.
Electrical System Troubleshooting Service
Our Marietta electrical contractors perform troubleshooting to diagnose and fix any electrical problem.
Lighting Installation, Repair, Replacement, Maintenance, And Upgrades
Interior lighting installation, fixture and wiring repair, and maintenance are available. Install, repair, and maintenance services for exterior security and floodlighting are also available.
Increase the energy efficiency of lighting with a lighting retrofit and upgrade. Our skilled electricians upgrade recess can lighting systems to modern LED.
Low-Voltage Landscape Lighting Services
Landscape lighting design services and low-voltage lighting fixture installation and wiring repair are available in Marietta. We are the top electrician for lighting installation throughout North Metro Atlanta.
Remodeling And Basement Finishing
For renovations, additions, and other home remodeling projects, in Marietta, you need an electrician. We install new wiring, light fixtures, additional outlets, wiring for electronics, smart-home upgrades, and more. That is why we are the best electrician for your remodel.
Wiring And Rewiring
Our Marietta electrical contractors know electrical wiring. So, replacing your home's current wiring is a phone call away. We wire new sub-panels and more. That is why we are the wiring and rewiring professionals near you.
Electrical Service Upgrades
Replace old 60 amp with 100 Amp or higher to meet modern electrical demands.
Storm, Fire, And Water Damage Repair
Perry Electrical Contractors provides emergency services for fire, water, and storm damage. Your Marietta home electrical can become inoperable from a lightning strike, flood, or fire. We can help you 24/7.
Spa And Hot Tub Circuits
Installation of GFCI protected dedicated circuits for spas and hot tubs is another of our electrical services.
Hard-Wired Doorbell Repair And Replacement
When a doorbell breaks or needs an upgrade, we rewire, repair, wire, and replace them.
Code Violation Corrections
Homeowners with code violations found by local City Of Marietta or Cobb County inspectors need correction. Code violation correction services fix these issues.
Besides, our electrical contractors have the experience and knowledge to fix any issue you face.
220 Line Installation
We install dedicated circuits. So, when you need 220 line service installation for electric appliances like dryers and ranges, call us. You may also need a 220 for major power tools, heavy machinery, and other high voltage items.
GFCI Outlet Installation And Repair
Ground Fault Circuit Interrupters (GFCIs) protect you from fatal shocks with a disruption of electricity flow through a circuit. These safety outlets go in kitchens, bathrooms, garages, and laundry rooms.
Replacement electrical services include outlet, dimmer, and switch replacement.
Ceiling Fan Services And More
Electrical fan services include ceiling fan installation, attic vent fan installation, and bathroom exhaust fan installation. As far as above the range, vent fan installation or microwave/vent fan combination installation is available.
Fan repair and replacement are also available for ceiling, attic, exhaust, and vent fans.
Detector Installation And Inspection
We install smoke detectors and carbon monoxide (CO) detectors as well. In addition, to our installation services, we replace and inspect these safety devices. All of our residential electric services are available in Marietta, East Cobb, and surrounding areas.
Home Electrical Inspections from Top Electricians
Electrical safety inspections consist of a completely thorough evaluation of your residential electrical system. Complete with a report of our findings.
Electric Car Charging Stations
Our Marietta electrical contractors install electric car charging stations at homes across East Cobb.
Backup Generator Services
Our skilled Marietta electricians provide generator inspections, maintenance, and testing. We also provide backup generator installation, maintenance, and repair services.
Whole-House Surge Protection
Home surge protection stops power surges from instantly destroying everything plugged into an outlet in your home. In Marietta, electricians install whole-house surge protection systems.
What are people saying about electricians services in Marietta, GA?
The following is a customer review for an electricians business in Marietta, Georgia:.
"I engaged Perry Electrical for a ceiling fan installation and was (again) impressed by the courteous professionalism of the duo that worked with me!"
How can I find out if an electrician is considered an essential COVID-19 service provider?
As Georgia moves through the global pandemic, guidelines and mandates alter our lives. However, a few things are unchanging. The workers, contractors, and businesses in the electrical trade are essential.
As part of the trades, electricians have continued to work on new electrical systems and maintain existing ones.
While our customers spend more time living and working from home, we have been there to provide residential electrical services.
Just as essential, we continue to serve our commercial electrical clients, keeping their buildings operational. And industrial electrical services are also an essential part of what we do.
Contact Us, Perry Electrical Contractors in Marietta, GA
Our Marietta electricians deliver reliable electrical services you can trust. Our skills and experience are top-notch. That means we work quickly and efficiently for you. With us, you get affordable, high-quality, safe home electrical solutions from our top Marietta electricians
Local Electrical Contractor
Small Family Business
Residential Electrical Services for the Home
Commercial Electrical Services for Commercial Businesses
Industrial Services Electrical Services for Industrial Businesses
Perry Electrical Contractors is the best electrician in Marietta, East Cobb, Cobb County, and Atlanta, Georgia. Contact us today online or on the phone at (678) 247 5488.